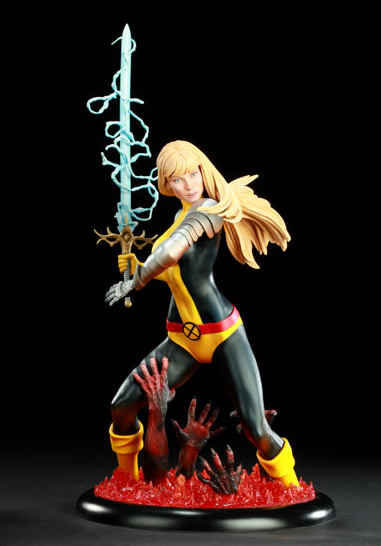 The Magik Comiquette is available!
Magik is Illyana Rasputin, the little sister of Piotr Rasputin, a.k.a. Colossus from the X-Men. At the age of seven, Illyana was pulled into the realm of the demon Belasco. She evaded the evil monster and came under the tutelage of the realm's version of Storm, now a powerful sorceress. Illyana also found a protector in the form of Kitty Pryde, now a fierce cat/human hybrid warrior. The young Rasputin was in the realm for years, but finally found a way out. To the X-Men, only a few seconds had passed, and Illyana suddenly changed from a child into a young woman! Now wielding mystical powers she had acquired in the realm, Illyana joined the New Mutants as Magik. This classic mini-series from 80s, entitled Magik, is a must-read!
The Magik Comiquette is sculpted by Trevor Grove (Sculpt), Matt Aylward (Sculpt), Mireya Romo Bowen (Paint), David Igo (Design) and The Sideshow Collectibles Design and Development Team. The polystone statue stands 14″ tall.